Christmas at Gaylord Palms Resort makes holiday dreams come true. This is a statement that was read to me a couple of weeks ago before I attended this year's ICE event at the Resort. I was already shaking my head in agreement before I even was able to capture the event in person. This was my third year of attending the Gaylord Palms ICE event. Each year it has got better and this year has topped the charts. Watch out Gaylord, you have your work cut out for you next year to make it even better. The entire family was in awe the whole time we were visiting the Gaylord Palms. I am going to share our ICE and Snow adventures with you today and then tomorrow share even more adventures that are included in this year's holiday package.
The highlight of Christmas at Gaylord Palms, ICE! is open daily (till Jan. 2, 2012), including
holidays. With more than 16,000 square-feet of frosty 9-degree bliss played out in a winter
wonderland of exciting hand-carved sculptures, ICE! Is a favorite holiday tradition. This year it features
five 30-foot ice slides and an all-new, tribute to the unforgettable DreamWorks' Animation TV classic
Shrek the Halls. The attraction is carved by a team of 40 artisans from Harbin, China, an area best
known for its annual International Ice and Snow Festival.
I am always so amazed by the work and carving skills. Let's take a virtual stroll through the ICE event. Passing the hot chocolate around. Be prepared to be amazed!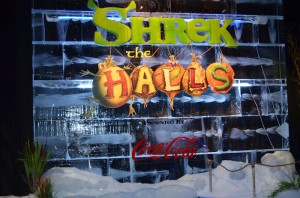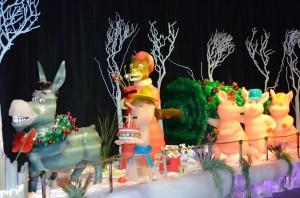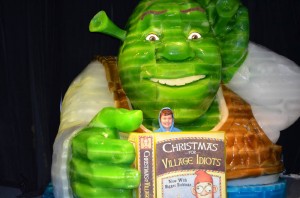 Isn't this just breathtaking? Believe me, it is even better in person. You will be in awe the whole time. M and I had to create laughter and family fun on the ICE slides. Yes, you are sliding on ice!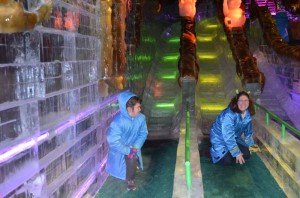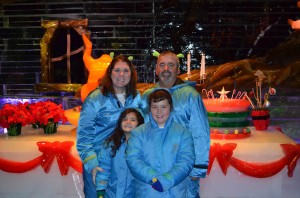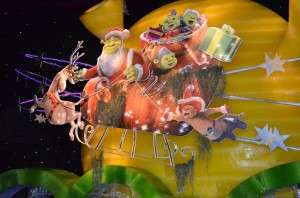 Gaylord Palms always over the last three years included a nativity scene in ice. The beauty, the twinkle of the light shining down has me in awe every time. We caught L standing in front of the Angel for a good three minutes. She would talk to the angel and just stare upwards. Hubby and I both got chills.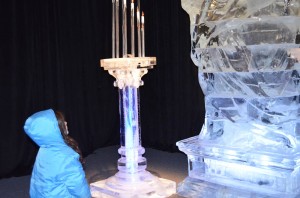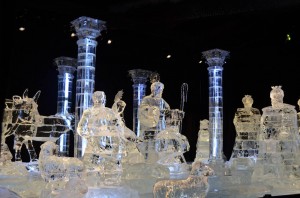 A new feature that was added last year is SNOW. Yes, really there is snow in Florida. The Kung Fun Panda Awesome SNOW! features more than 130-tons of snow is freshly made daily to allow kids of all ages to build snowmen and forts while playing in over 3-feet of the cold stuff. The best part? We did not even have to wear a coat. The atmosphere is kept at a crisp 55 degrees. The girls were having so much fun throwing snow balls and not having to worry about freezing. We built a snowman, had fun sliding down the slides and catching each other off guard with a snowball.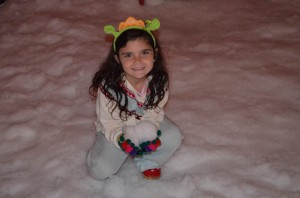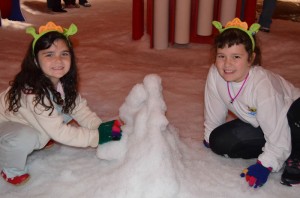 Truly a magical and wonderful holiday experience for the whole family. What are you waiting for? Go create memories and have a blast. Believe me, you will not regret the experience. Merry Christmas!
Disclosure: We were invited on a FAM trip to the Gaylord Palms to experience all the holiday festivities. All thoughts and opinions are of my own.