Snow and ice is on the forecast at Gaylord Palms as you can see from the post I wrote last week. Who said it was always sunny in Florida? I proved that theory wrong. Gaylord Palms bring so much happiness with their ICE and Snow events. The events get even sweeter with all the nice extras that Gaylord Palms has added this year.
ShrekFeast Interactive Character Meals – The girls were amazed to wake up and head downstairs to breakfast and be greeted by Shrek. Each Shrek character took their time and went by each table and visited. The food was delicious and the whole family enjoyed all the interactions with the characters. Each meal is served buffet style with so many choices that if you leave hungry, it is your own fault. A Shrek fondue table is even included!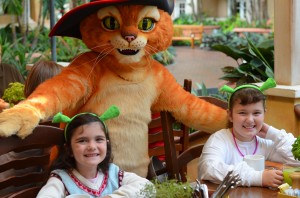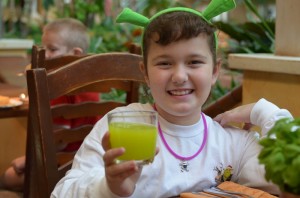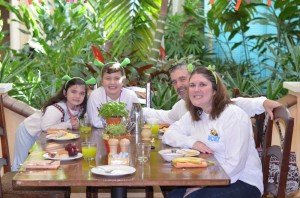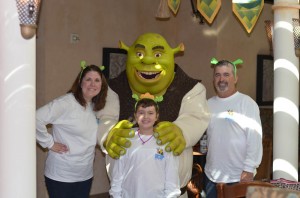 DreamWorks Animation 3D Theater Experience – This is a theater experience we could get use too. You walk the red carpet with paparazzi all around taking your picture.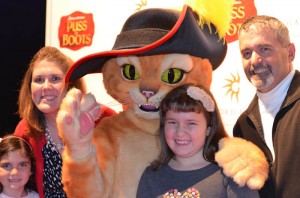 Once you get down the red carpet, you get your choice of two different gourmet foods (you could make a meal out of this) and a super cool drink machine that allows you to mix your own unique drink. Very neat. Take a seat with all your goodies and put on your 3D glasses to watch Puss in Boots. The whole experience was extraordinary and full of fun for the whole family.
Gingerbread Decorating with Gingy – A real life gingerbread man takes you in for a fun and interactive family experience. We were able to choose between a Gingerbread House, a Gingerbread Family or a Gingerbread house ornaments. As the girls were working on their gingerbread creations, Gingy would interact with them and create lots of smiles and laughs with his interactions. He even would pose pictures with everyone. He has a smile that is undeniable ;). Overall, it was another experience that the whole family enjoyed and created memories that would last forever.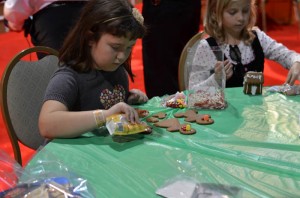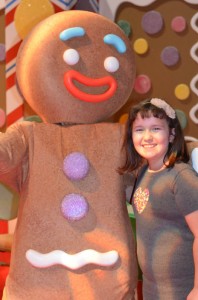 You can add any of these experiences with your ICE and SNOW tickets. Create a package and save money.
After you enjoy all the above fun, you can experience the festive Christmas shows held daily and nightly at Gaylord Palms included with your admission.
Luminescence. Enjoy a musical journey into the spirit of Christmas. The holiday season
comes alive with dazzling special effects, lighting and aerial choreography to tell the story of
Christmas. We were in awe at the show each night. The drummer performing in the air, the aerial choreography was so amazing. The girls actually requested to see the show each night so you know it had to be a favorite for them.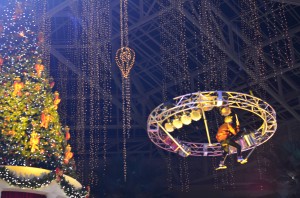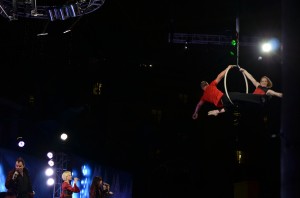 Christmas Wonders and Majestic Christmas Tree Lighting. A radiant and heart-warming stage
revue includes a ceremonial lighting of the 50-foot tall majestic Christmas tree!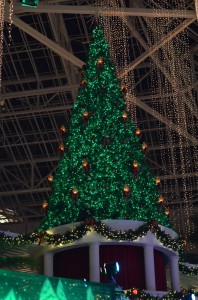 Don't forget to visit Santa before you leave as well.
As you can see, it truly is a heartwarming holiday tradition that the whole family will enjoy. Schedule your visit today, I promise you will not be disappointed.
Merry Christmas!
Disclosure: We were invited on a FAM trip to the Gaylord Palms to experience all the holiday festivities. All thoughts and opinions are of my own.