Have you ever been up close and personal with a giraffe? I can cross that off my bucket list. As I wrote before about our trip to San Diego Safari Park, I was literally face to face with a giraffe.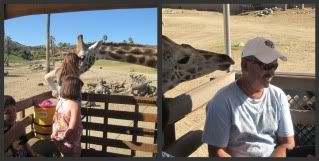 The reason we were so up close and personal is because we went on an amazing, educational and out of this world experience on the Caravan Tour. Our tour guide was so patient and really made the whole tour so much fun. I believe we were all sad when the tour came to an end because it was that much fun. You are riding around through the habitats and are able to get so close with all the animals. The girls were filled with questions and the tour guide took time to answer each question a way the girls could understand. You are on the tour 2.5 hours but the whole time is filled with adventures, so many different animals, feeding time and lots of smiles, laughs and oh my's.
Quick one minute and twenty seconds video to summarize our feeding time and up close and personal adventures.
Now, you see why the girls are still talking about this adventure two weeks later. It is a time to turn off technology, get down on your child's level and have an amazing time enjoying mother nature. Two thumbs up from the entire family and agree everyone should add to their must-do list for San Diego.