Hey there Ultimate Blog Party Go-ers… It's Jen from One Moms  World coming to you live from the beautiful NC Blue Ridge Mountains. Come on out here and join me with my famous drink that I serve everyone that comes visit; Sweet Tea!
So girlfriends… I'm so glad you all came and stopped by. We have so much to chat about. Let me tell you a little about myself. I am Jen… just plain ole Jen who loves her family and life. Let me introduce you to my family:
I am married to a wonderful man of God, Scott and we have two beautiful daughters M and L.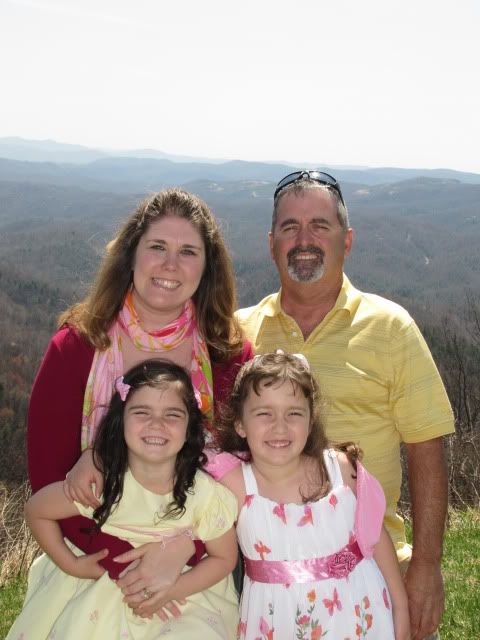 We stay busy here in the High Country of NC.
I am currently a student and I work full-time. My husband is playing the Stay at Home Dad role for now since construction took a downward spiral. I am a Weight Watchers lover who is on a healthy journey to get her family  healthy and fit. I recently started sharing our Weight Watchers meals and will continue to add more weekly.
I love to talk (people probably say I wish she would hush-up)
I don't meet a stranger
I love to help others
I love to make people laugh
I love to travel
I love the outdoors
I love all things techy (no I absolutely don't get up in middle of night to check my DROID… sure don't haha)
I love my dog!
Now… I know… I could talk and talk and talk but this isn't all about me. I would love to hear from you and be new BFF's (Bloggy Friends Forever). Just leave me a comment below and let's get this party started. Would you like more sweet tea? No problem 🙂
P.S. I heard the super fantastic wonderful ladies over at 5 Minutes for Mom was giving away prizes. Oh I would like to put in the hat for my choices. Here are my top picks but I would be happy with any prize said with my sweetest southern girl charm!
8 – Buds to Bloom Photo Tile Necklace
39 – Be My Guest certificate ($250 value)
49 – Starbucks Gift Certificate
56 – 12″ x 24″ Custom, hand~painted gallery style canvas
USC 3 – Target Gift Card