Creamy Alfredo has always been a huge hit in the household, but unfortunately, it comes with a price as it has a lot of fat and calories. The times have changed though thanks to Classico. I was in the grocery store last week trying to decide on a sauce that would be weight watchers friendly and did not have tomatoes. Not a lot of choices until my eyes met this jar: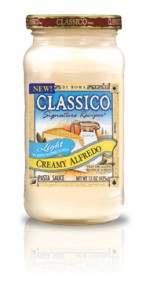 I am pretty sure that I squealed right there in the grocery store aisle. This sauce is only 1 point on the new Weight Watchers Points Plus program. Oh happy day. I went and grabbed 99% fat free ground turkey and used a box of whole wheat pasta at home and came up with a 5 points nice dinner entree.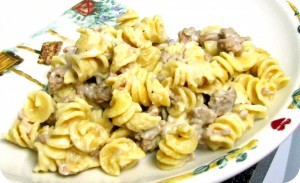 This dish was an instant hit, as there were no leftovers at all.
Directions:
1. Cook the box of noodles as stated on the box.
2. Brown the ground turkey.
3. Drain the noodles when done.
4. Add the ground turkey and 2 jars of Classico Light Alfredo Sauce with the noodles.
5. Mix thoroughly.
Dinner is served.
5 points – Weight Watchers Points Plus
Disclosure: Classico had nothing to do with this post. I just found the new light version on the grocery shelf last week and wanted to try it. It was a huge hit so now I am sharing this easy dinner entree!