Holidays are all throughout the year and that means large family gatherings here at One Moms World. This could mean unfortunately, that you will stuff yourself so bad that you cannot even get out of your own chair. It does not have to be this way, believe me. I have learned that when invited to huge family gatherings, to take food that you know is healthy, so you will know, you will at least have a couple of choices to pick from.
For our big Easter celebration this past weekend, I found a recipe in the paper called Angel Lush with Pineapple. I made a few changes to it so it would be more Weight Watchers friendly and here was the end result.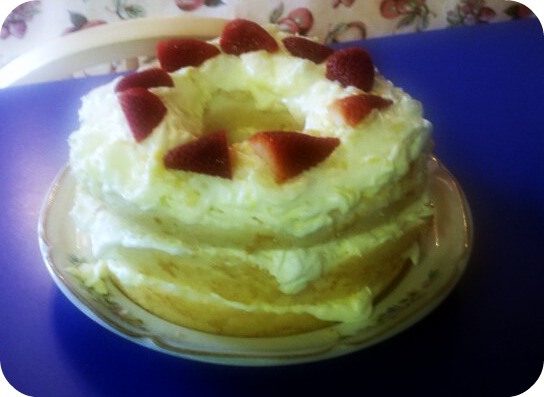 Weight Watchers Points Plus = 4 Points
Ingredients:
1 fresh pineapple peeled and crushed
1 pkg. (3.4 oz.) JELL-O Sugar Free Vanilla Flavor Instant Pudding
1 cup thawed Fat Free COOL WHIP Whipped Topping
1 pkg. (10 oz.) round angel food cake, cut into 3 layers
10 small fresh strawberries
Directions:
1. Mix together in bowl pineapple and dry pudding mix. Stir in cool whip.
2. Stack first angel food cake layer, spread pudding mixture over first layer. Stack the second layer, and then spread pudding mix over layer and do the same with last layer.
3. Refrigerate for 1 hour. Add strawberries over top layer.
Enjoy 🙂