Remember when I shared the lemonade pie recipe last week? I said that I absolutely love Summer because of all the fun and creative cooking you can do.
You are going to fall in love with this summer spaghetti salad. I get raving comments everywhere I take this dish. Ten years ago, a former co-worker of mine brought in this recipe to a work party and I fell head over heels in love immediately. It is such a simple salad to make but one that will become your all-time favorite salad.
Summer Spaghetti Salad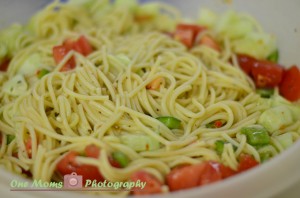 Ingredients:
1 box of spaghetti noodles
1 pepper
3 large cucumbers
2 tomatoes
1 package of Zesty Italian Dressing Mix
1 bottle of Fat-Free Italian Dressing
Directions:
1. Boil your spaghetti noodles.
2. Cut up all your vegetables into small cubes.
3. Mix the vegetables in an bowl with the Zesty Italian Dressing Mix.
4. As soon as the noodles are finished boiling, use a drainer to separate the noodles from the boiling water. Run cold water over the noodles. Drain.
5. Mix the noodles and vegetables in a large bowl.
6. Pour the bottle of Italian Dressing all over the noodles. Mix well.
7. Refrigerate.
Enjoy. You will be coming back for seconds and your guests will be screaming for more. This is by far M's and my favorite summer salad.
Guess what? It is healthy for you too!