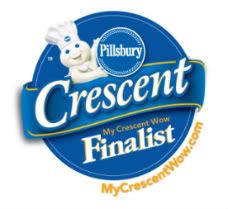 As everyone knows, I am a southern gal. Born and raised in the south with the southern accent to boot, that is what makes up me – Jen Houck. I could not imagine life any other way.
Ever since I was a small little girl, my brother and I would be in the kitchen to see what we could create to surprise our parents. My love of cooking has grown even stronger over the years and most evenings, you will still find me in the kitchen. This is why it is an honor to be asked to be a Crescent Cook Pillsbury Ambassador and share my easy and delicious recipes with all of you… busy parents!
Let's back up here and tell you the time line of how this all took place. Back in June, I filled out an application about why my love for Pillsbury Crescent Rolls was so big. I did not have any expectations, so when I received a call to say I was in the top 100 out of 3600 applicants… there was lots of grinning ear to ear. I had to submit two recipes to see if I could make it to the next round and I DID! It was then telephone interview time, to my surprise, I was not nervous at all. More than likely, it was because I was speaking of a subject that was very dear to my heart. Cooking! I didn't hear anything for a couple weeks and then the day of L's surgery, I received the call that I was one of the 4 finalists. I wanted to scream from the roof tops, but I have had to keep it quiet till today. That was hard.
Now fast forward to the winning recipe.
So let's take Comfort food + Pillsbury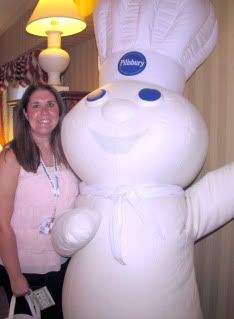 and we have Pillsbury Crescent Chicken Pot Pie that will make your mouth water.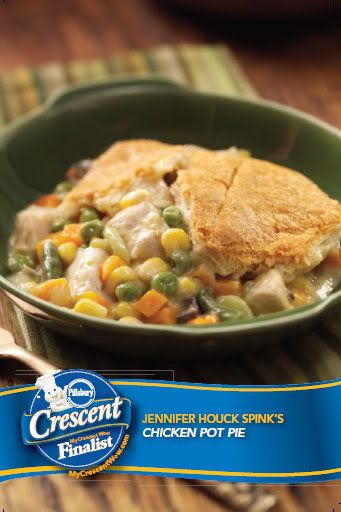 Now does that not look delicious?
INGREDIENTS
* 1 bag (16 oz) frozen mixed vegetables or 1 large can of veg-all
* 2 cups cubed cooked chicken
* 1 can (10 3/4 oz) condensed reduced-fat reduced-sodium cream of chicken soup
* 1 can (10 3/4 oz) condensed reduced-fat reduced-sodium cream of mushroom soup
* 1 can (8 oz) Pillsbury® refrigerated crescent dinner rolls
DIRECTIONS
1. In large bowl, mix vegetables, chicken and soups. Pour into greased or sprayed 13×9-inch (3-quart) glass baking dish.
2. Unroll dough into 2 long rectangles; press perforations to seal. Place rectangles over chicken mixture; pinch center edges to seal. Press outside edges of dough to edges of baking dish.
3. Bake at 350°F 25 to 30 minutes or until top is golden brown.
As we all know, us southern ladies really do love our comfort food. Ok… go on… what are you waiting for? Let's get to cooking 🙂