The news leaves my skin crawling every time it does a segment on bed bugs. Fortunately, I have never had to experience bed bugs when traveling but I have heard of a few horrific stories including my friend Tonia Sanders, The Chatty Momma.
After hearing her story, I was so thankful that ThermalStrike had sent me their newest line of heated luggage to do a review. ThermalStrike is bed bug-proof luxury luggage that uses state-of-the-art infrared heat technology to actively kill bed bugs. This type of technology will prevent you from taking the bed bugs into your home. There are no worries about taking this luggage with you onto a flight as it is both TSA and FAA compliant.
My husband has put his claim on this luggage. He used it for the first time on our recent trip to Raleigh this past weekend and was very impressed with out it maneuvered throughout the hotel. There are four wheels that have a 360 degree rotation.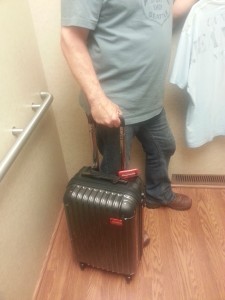 The luggage is available in two sizes, a 20″ carry-on and 24″ upright. The luggage is equipped with a thermometer that will automatically turn the heating system off when the desired temperature has been reached to kill all the bed bugs. As you can see from the picture above, the luggage is very stylish and modern. You will not have to compromise your style in order to prevent bed bugs from crawling home with you.
My husband and I both were very happy with the feel, the weight and the storage room of the luggage.
WIN!
To help keep your mattress clear and safe from bed bugs, ThermalStrike is providing us with a Protect-A-Bed's BugLock® Mattress Encasement to give to one lucky reader.
a Rafflecopter giveaway
Disclosure: ThermalStrike and Global Influence provided the luggage for the sole purpose of this review. All thoughts and opinions are of my own.