Over the next 8 days, I will be sharing recaps from our time aboard the Carnival Sunshine. We just arrived back home in NC and it was an amazing experience. Hope you will enjoy our life on the ship. This is a sponsored review but as always, all thoughts and opinions are of my own.
We finally boarded our much highly anticipated vacation on the Carnival Sunshine. As we arrived to Port Canaveral, we parked offsite about 2 miles away to receive the reduced parking rate of $6.95 a day. This price is much cheaper than if you park at the actual Port Canaveral. It was going to cost of over $200 to park at the port for 9 days. The shuttle bus took us right to the front entrance of the Port.
We arrived around 1:30 and the lines were very minimal. Even though we had a priority boarding pass, there wasn't a line in the general section. The customer service was top notch and all of our questions were answered with enthusiasm. You are able to take carry­-on bags with you, but your suitcases are kept at the entrance and will show up at your cabin door later in the night. I do recommend you pack things in your carry-­on that you may need for dinner the first night. We made do with what we had, as we did not receive our luggage until after dinner.
Here is a glimpse of our home away from home.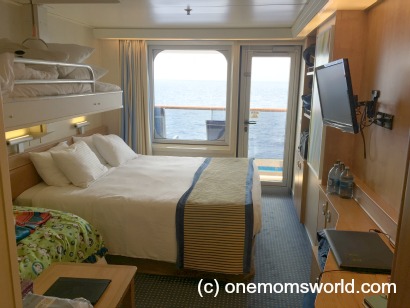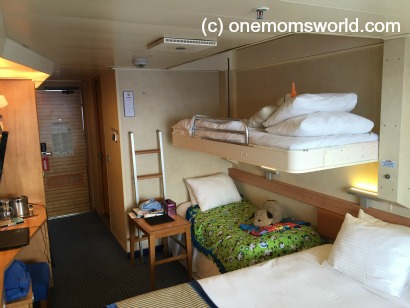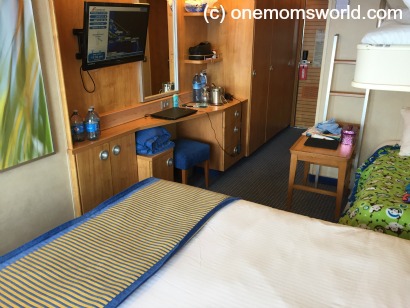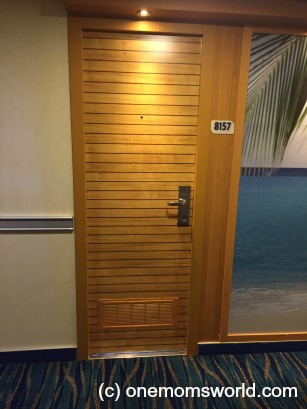 As soon as we dropped our belongings in our cabin, we walked up to the Lido Deck on the 9th floor of the ship to eat lunch. This is where you can eat breakfast, lunch, and/or dinner. There are so many options including a comfort buffet, hamburger joint, taco bar, salad bar, Italian ready to order, and Asian ready to order. Each food area had gluten free options.
It was time for us to leave port. Excitement was in the air!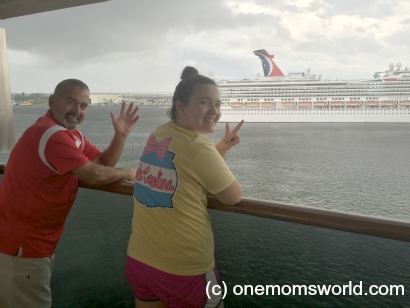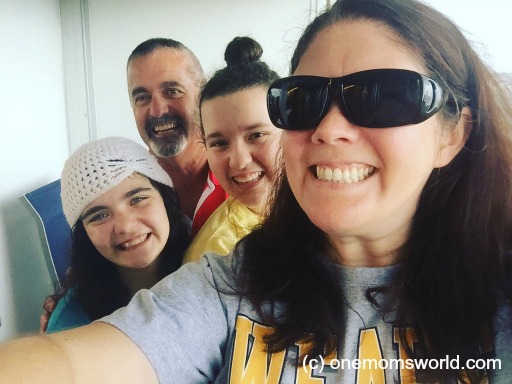 Little Sis kept waving to everyone along the port and saying "Bon Voyage." It was great family fun right there on our cabin balcony.
Afterwards, we cleaned up for our first dinner in the Sunset Dining Room. Carnival really does roll out the red carpet for you during this dining experience each evening.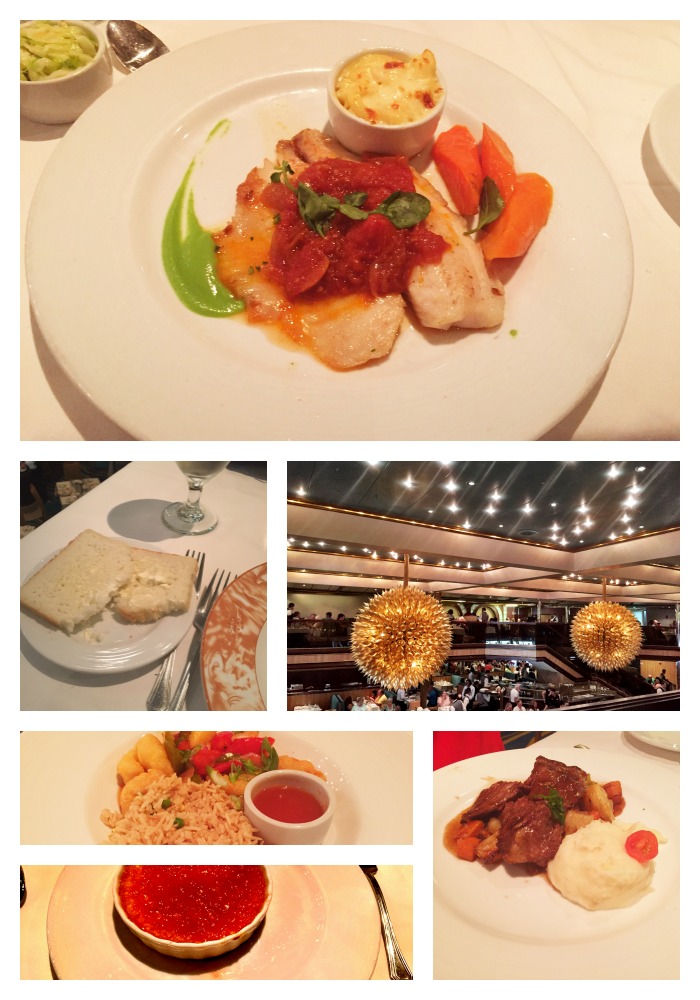 Each night, we were assigned a dining time of 6:00pm. The same waiters served us each night. By the end of our first night dining, I knew we were going to become fast friends with our waiters. Once we take our seats, the waiters would bring us bread (gluten free for me) and a menu. Each guest is able to choose a starter, main entree, and a dessert off the menu. Remember all the food is included. There is no extra charge unless you want a beverage from the bar. As I said earlier, gluten free is no problem on the ship. The food was amazing from M's chicken fried rice, my broiled tilapia, and hubby's stew beef. Little Sis ordered off the kid's menu every night. Her order did not change, chicken nuggets and french fries. She was very happy!
We walked around the top deck after dinner and then headed to our cabin for the evening to unpack all of our luggage. It was time to rest up for the next full day at sea.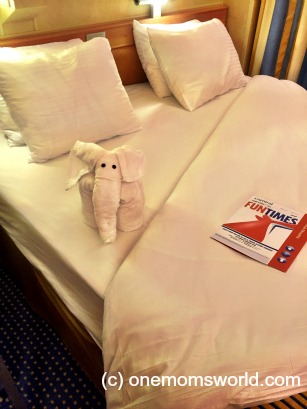 Each night, we have a new towel animal on our bed. We all excitedly walked into our cabin each night to see which animal will appear. Stay tuned for Day 2.
Day 1