Waking up to a beautiful view of sea.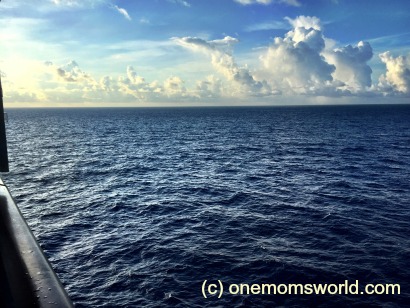 This day was our first full day at sea. Each sea day, a brunch is held in the Sunrise Dining room from 8:30am to 1:00pm. My recommendation is to arrive between 8:30am and 9:30am for a very minimal wait time to be seated. If you would like to be seated by a window to view the Atlantic Ocean, remember to request a table. Booths are in the middle of the room and you cannot always view the ocean.
This brunch is no extra charge. You are presented a menu to pick a starter and main entree. The waiter talked us into getting the "go big or go home" steak and eggs.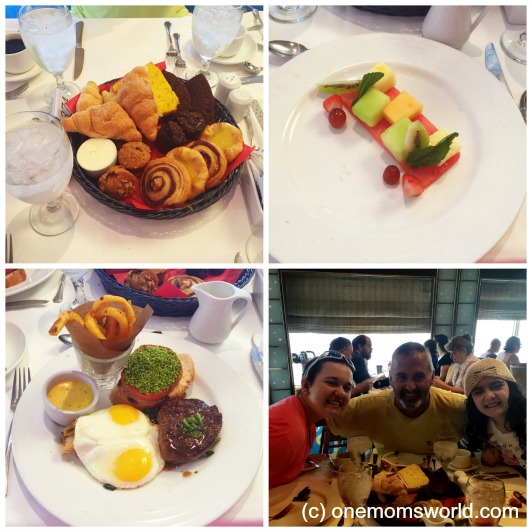 As many know, I rarely eat red meat. The filet mignon was very tender with a superb marinade to give it a delicious taste. The eggs (sunny side up) were over a mixture of potatoes. Unfortunately, I could not eat the tomato. Madi said it was awesome! The coffee was much stronger than mine and Hubby's liking. You should at least enjoy the brunch once during the cruise. Little Sis chose to order chocolate chip pancakes. She was not disappointed and almost ate every bite. Check out that chocolate!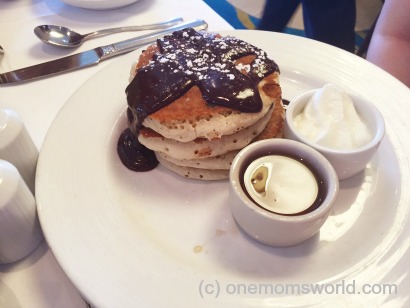 After brunch, we headed to the top deck of the ship to experience the SkyCourt. This is where we spent hours of family time playing putt-putt and ping-pong.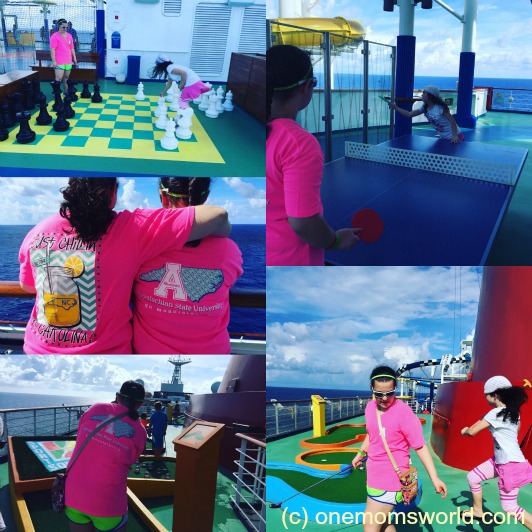 The view while you are enjoying these activities are breathtaking. Sometimes, literally breathtaking. Little Sis kept making us laugh so hard as the wind would gust and take her breath at times. She was truly experiencing breathtaking.
Another positive about the SkyCourt is this was a great way to exercise to burn calories from all the food we enjoyed on the boat. I loved all the laughs we shared and will hold these memories close to our hearts.
The afternoon brought us inside the boat to Ocean Plaza to participate in the Dr. Suess parade. Carnival creates so many family events to help you have the best family vacation. After the parade, you could join the Cruise Director, Jaime for story time.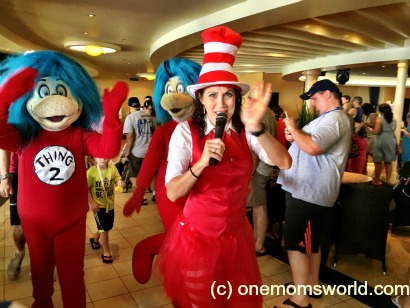 A full day at sea brought us back to our cabin to get all fancy for the first formal night of the cruise. This 8-night cruise has two formal nights. It was so much fun getting all dolled up and enjoying an elegant dinner that included lobster tails.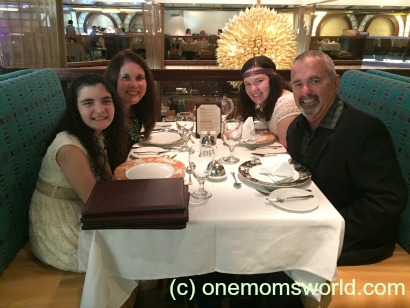 The lobster tails were amazing.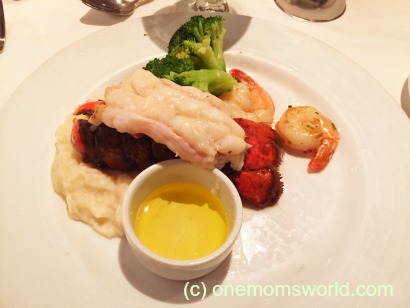 Of course, the girls and hubby really enjoyed Carnival's warm melting chocolate cake. This may be the dessert they pick each night!
You are able to get professional pictures taken aboard the ship. I knew our formal night would be our chance to finally get our first professional family of four picture. It only took 11 years. The pictures turned out amazing. I'm so in love with them. The below picture is just pictures of the pictures, so you do see the actual photo but you can see why I am so pleased with them. Now, to find beautiful frames for the pictures.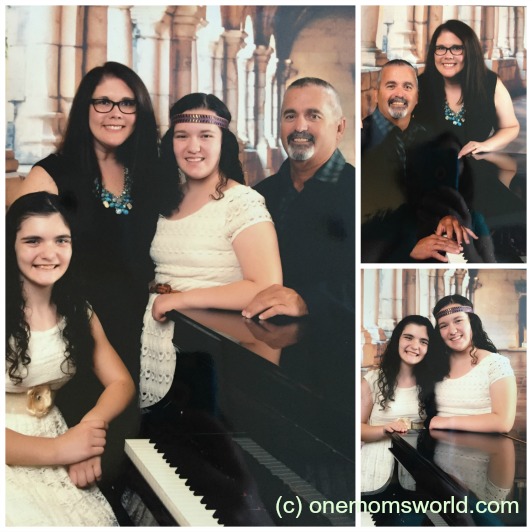 After dinner, we did our nightly walk on the top deck and experienced an amazing lightning show. This would be weather channel worthy. It was soon realized, we needed to take cover inside. The ship was going through a severe storm.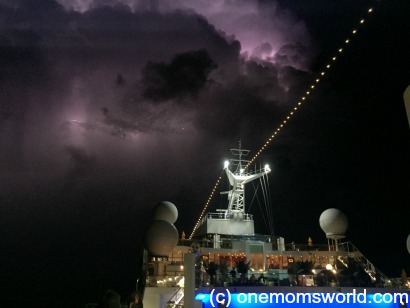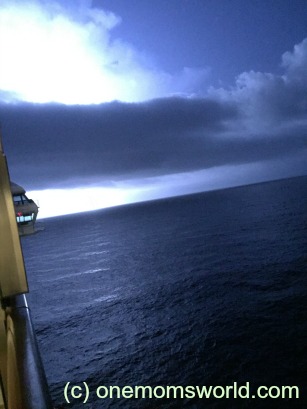 It was fine though as we were excited for the Motor City Playlist Productions show featuring songs from the 60s, 70s, and 80s. Each night on the ship, a production show is performed in the Liquid Lounge. Hubby and I knew every single song that was performed. It was a great way to end Day 2! The performers were great and the choreography was wonderfully done.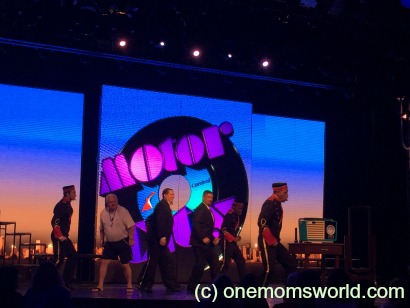 This towel animal greeted us as we made our way back to the cabin to call it a night.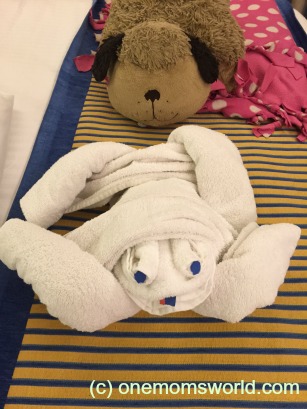 Day 2