We are helping Kraft Fight Hunger here at One Moms World this Christmas season. It is the least we can do to give back.
See first post here – Chocolate Chunk Cookies.
See second post here – Ham and Cheddar Bacon Mini Sub Rolls.
According to Feeding America, In 2010, 4.8 percent of all U.S. households (5.6 million households) accessed emergency food from a food pantry one or more times.
As stated in my other posts, here is how you can help:
1. Please "like" the Kraft Food's Fight Hunger Facebook Page. Once you do, a meal will be donated to a food bank.
2. Play the 2-Minute Trivia drill to donate even more meals.
Kraft will donate up to 4,000,000 meals via online and mobile activities, as part of their goal of providing 25 million meals. I am sharing a Ham Sandwich Recipe today. Each recipe that I am sharing, Kraft is going to donate 1,000 meals to my local food bank.
Cheese Dip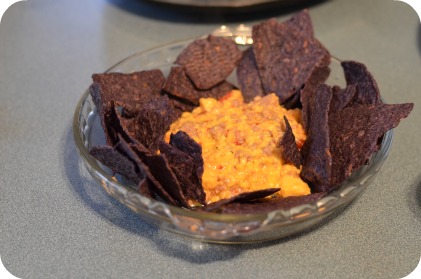 Ingredients
1. 1 block of Velveeta Cheese (I use reduce-fat)
2. 1/2 pound of ground turkey
3. 1/2 pound of sausage
4. 1 can of Rotel Tomatoes (We use mild but you can use hot as well)
Directions
1. Brown ground turkey and sausage together.
2. Cut-up Velveeta Cheese in small squares.
3. Add cheese, ground turkey, sausage and rotel tomatoes together in a crock pot.
4. Cook on high for 3 hours.
Serve with tortilla chips and Enjoy!
I have been making this recipe for years. It is always welcome whenever we are eating, sleeping and breathing sports.
Disclosure: Kraft Foods is providing me a gift card in exchange for my participation in this program at no cost to me; however, all opinions expressed here are my own.